Founded in 2004, Chapman Office Services commenced as a bookkeeping service, however a love of helping people soon added a new branch to the business, 'Consulting and Training'.  By advancing into the 'Consulting and Training' role it has allowed us to help clients not only get out of those sticky situations, but to avoid those situations all together.  When Clients find they are just that little bit out of their depth, we are able to guide them on the best path going forward. Specialising as a Reckon Accredited Partner has allowed us to focus our training and development on specific programs, concentrating and developing our knowledge of the Reckon range.  Whether it be 'Accounts Personal' or 'Business', Retail Point of Sale, Payroll Premier or QuickBooks, we have experience in all of these programs.  And in many cases the third party software that can be used with them.  With the future of the 'Cloud' upon us, we also support Reckon One and Reckon Hosted.
With recent ATO changes, we are now providing assistance with the ATO portal.  QuickBooks On-line (by Intuit), MYOB, XERO and Cashflow are also part of the range that we support, and training with the Microsoft range, Word, Excel and Outlook is also available.
Meet our Reckon Accredited Consultant/Trainer – Kim Chapman
Kim is Accredited in Reckon Accounts Business, Retail Point of Sale, Reckon Account Personal, Payroll Premier and holds Reckon One Certification.  She has a vast experience with both Cloud and Desktop, and extensive experience across a broad range of Industries/Businesses.
In 2015 Kim was awarded Accredited Partner of the Year, a prestigious award for her dedication to Reckon and the Accredited Partner Network.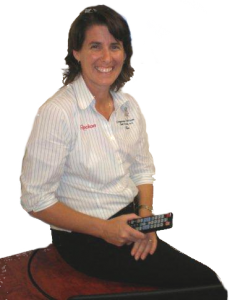 HOW IT ALL STARTED:
"Well before GST was introduced I was using Quicken, Spreadsheets and doing Payroll Manually. In the early 2000's and after hand writing many, many 'Group Certificates' one night, I decided there had to be a more time efficient and easier way.  Whichever program I chose, I knew I had to learn it properly, and since I could not easily access QuickBooks training and my Accountant was not QuickBooks compliant, I decided to go with another program MYOB, which I still use today.
After working with MYOB for many years, I was asked by a client using QuickBooks to become their Bookkeeper. As time went on and with some training (from a Reckon Accredited Consultant), my confidence in using a Quicken Program returned. One day a colleague suggested that I become a Reckon Accredited Consultant. After some consideration and given my personal experience with limited training availability, I decided to take up the idea so others could have the support that I did not have.
After attaining a Certificate III in 'Financial Services' and a Certificate IV in 'Workplace Training & Assessment' I was then eligible to sit for the Reckon Accreditation Exam, I gained my qualification as a Reckon Accredited Consultant/Trainer in 2007.  In 2010 I sat for and gained Accreditation in Reckon Retail Point of Sale and Reckon Accounts Home & Business.
With the introduction of the Tax Agent Services Act 2009, setting professional and ethical standards governing the Bookkeeping Industry, I was required to up skill to a Certificate IV in Financial Services (Bookkeeping) and register with the Tax Practitioners Board as a BAS Agent.  My Diploma of Management also puts me in good stead when it comes to Business Procedures, Planning and Budgeting.
While today I only do enough Bookkeeping to maintain a high working knowledge, my focus is on Training, Consulting and Supporting my Clients to do their own Bookkeeping.
WHAT I ENJOY MOST ABOUT WHAT I DO
"I mostly enjoy helping my clients to learn about their program to develop systems and procedures that help them to produce real results. Helping them to benefit from all the data entry work they have done".
"The highlight of my role is the satisfaction it brings when I see the excitement on my clients faces when they are able to produce and read reports and begin to make informed decisions".
MY EXPERIENCE
Reckon Accounts Business (Easy-start through to Enterprise and Hosted), Reckon One, Retail Point of Sale, Reckon Accounts Personal Range.
QBO (by Intuit), MYOB, XERO, Trans-mate, Great Plains and Cashflow.
Inventory, Payroll, Accounts Payable/Receivable, Bank Reconciliations, Job Costings, BAS Reporting, EFY Payroll Reporting.  I have also had the opportunity to work with integrated programs as in the QODBC Drivers.
I have experience in Farming, Construction, Commercial, Retail, Services, Commercial and Residential Rental. I provide both Bookkeeping Services and Consulting and Training.