Founded in 2004 as Chapman Office Services, in 2017 was rebranded COS Business Solutions.  We commenced as a bookkeeping service, however a love of helping people soon added a new branch to the business, 'Consulting and Training'.  By advancing into the 'Consulting and Training' role it has allowed us to help clients not only get out of those sticky situations, but to avoid those situations all together.  When Clients find they are just that little bit out of their depth, we are able to guide them on the best path going forward. Specialising as a Reckon Accredited Partner has allowed us to focus our training and development on specific programs, concentrating and developing our knowledge of the Reckon range.  Whether it be 'Accounts Personal' or 'Business', Retail Point of Sale, Payroll Premier or QuickBooks, we have experience in all of these programs.  And in many cases the third party software that can be used with them.  With the future of the 'Cloud' upon us, we also support Reckon One and Reckon Hosted.
With recent ATO changes, we are now providing assistance with the ATO portal.  QuickBooks On-line (by Intuit), MYOB, XERO and Cashflow are also part of the range that we support, and training with the Microsoft range, Word, Excel and Outlook is also available.
Meet our Reckon Accredited Consultant/Trainer – Kim Chapman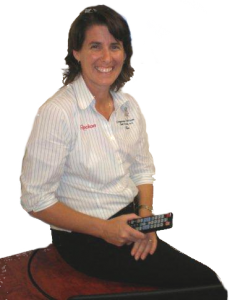 Kim is Accredited in Reckon Accounts Business, Retail Point of Sale, Reckon Account Personal, Payroll Premier and is a Reckon One Cloud Advisor.  She has a vast experience with both Cloud and Desktop, and extensive experience across a broad range of Industries/Businesses.
In 2015 Kim was awarded Accredited Partner of the Year, a prestigious award for her dedication to Reckon and the Accredited Partner Network.
Kim is also a Network Leader for the 'Australian Bookkeepers Network'.  They are an Industry Body that provides Technical Knowledge, Resources and Tools to the Bookkeeping Industry, keeping them abreast of Government changes and helping us better serve our Clients.  Read more about Kim Chapman.
Meet our Administration and Bookkeeper – Rebecca Chapman
Having joined us in 2017, Rebecca is a 'Reckon One Cloud Advisor'.  She has a Certificate III in Business Administration and is currently working toward a Certificate IV in Bookkeeping.
Rebecca takes care of the Administration side of COS Business Solutions and also provides Bookkeeping Services.